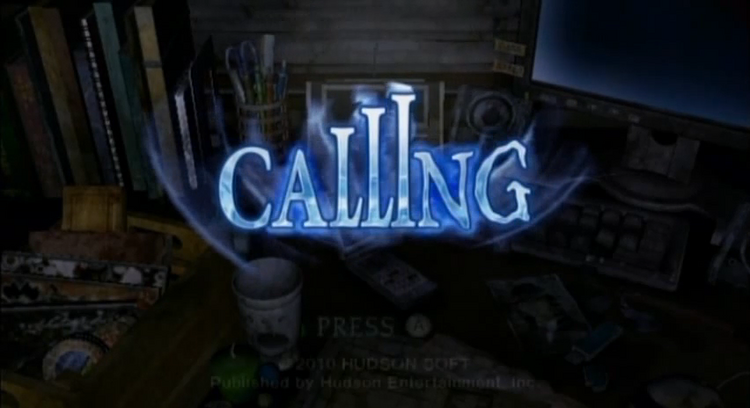 After completing the fake ending with Rin Kagura, the starting screen for the game changes from a cellphone on its side (Implying it was from someone just taken by The Black Page curse...) to a MUCH spookier setting. The Haunted Desktop.
Appearance
Edit
Probably the most disturbing thing about this screen, is its intentional resemblance to the menu screen within the game itself. It even has a broken phone in the middle of the desk, a slightly broken flash drive (someone storing data files like Sadao did?), and a very worn picture of some unidentifiable girl(perhaps a living Mika Hosokawa) near the lower right corner.
It is pretty clear this is to imply it was the "menu" of some unfortunate soul who did not quite make it out of the game...
This screen is practically its own haunted location, with many unusual things happening while the screen is up on its own...
These include (But are not limited to)...
A shadow flying across the screen...
An eyeball peeking through the window blinds in the back: This is even spookier when you consider the window should be closed on the other side...
Mysterious moaning noises coming in over the speakers...
The candle on the desk suddenly lighting up on its own...
A marble suddenly dropping into the small dish above the candle...
The keyboard for the computer suddenly typing out the words "Help" or "Hudson" on its own, complete with the keys pressing themselves down...
The picture of the school-girl changing slowly from a normal face to a darker, more creepier one....
One of the old books being drawn backwards and disappears.
A black cat leaping across the screen in two bounds...
A bruised or bloody hand reaches out from the bottom right of the screen and takes something away.
The computer mouse suddenly gets swiped away and disappears.
Oh, and let us not forget a special gift from someone should you spend time trying to find her in the game...
...and possibly others..
A rat will scurry across the screen into the bottom left and disappear...
Miscellaneous
Edit
The haunted phenomenon seem to occur more frequently when the previously or current saved game is on one of Makoto's chapters, but they DO still occur with the other characters saved chapters, if given enough time.
The marble falling, as well as the shadow flying across the screen, will also cause the Wiimote control to briefly shake.
Although not confirmed, it seems that the haunted occurrences happen when the "flashlight" is not pointing directly at something on the screen.